LAST UPDATED OCTOBER 1, 2019
Does your community group, school or church organize a trunk or treat Halloween event every year? Sick of a last minute rush to get organized and out the door for the event?
Or, are you the Trunk or Treat organizer? Then, check out this post just for Trunk or Treat coordinators!
Easy Trunk or Treat Ideas
There are tons of great decorating ideas online every year. But, if you'd rather spend a few dollars (instead of a few hours!), check out this list of things to buy for 5 minute trunk or treat ideas, to decorate a trunk for Halloween in no time flat!
Is your trunk or treat event short-and-sweet? If you can keep this plugged in to your car battery (lighter plug) for the duration or have access to another power source, then you may like this trunk monster inflatable!
Want something simple that can re-purposed for home or your classroom? Grab this bunch of creepy swirls to hang from your car first, and then take home to hang in your entryway to welcome trick or treaters!
Add this cute Halloween bean bag toss game to your decorations and make your little trunk-or-treaters work for their candy!
If you don't have much storage space or live in an apartment, consider this small decoration set. Be sure to check out the reviews and customer photos to see just how small this design set is in real life! It could either be "just right" or "way too small", depending on the dimensions you want.
Want a quick printable decoration that you can prepare RIGHT NOW? Grab this digital file from Etsy that you can print at home. Double check that you have the paper, printer ink and a suitable ribbon (or have time to run by the store!)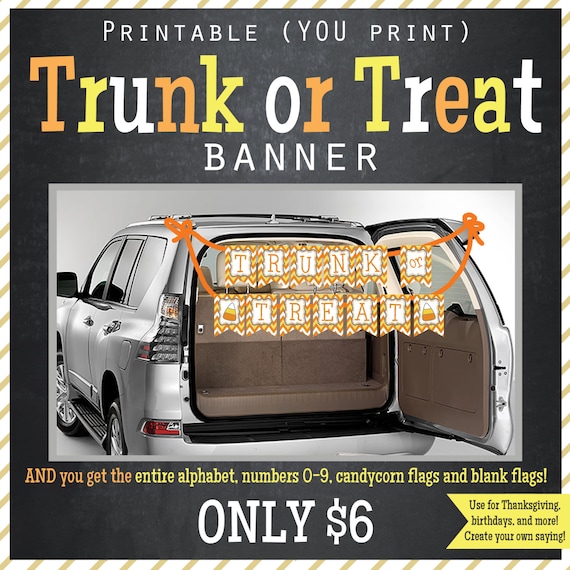 Looking for more Halloween stories for your youngest child? Here's a Halloween book all about Trunk or Treat!
Halloween Group and Family T-shirts
Grab a fun, coordinating or matching Halloween Group tshirt so you don't have to worry about your costume, just your car's!
Here are a few fun examples:
And, no, I didn't forget dad! 🙂
And, You Can't Forget… Halloween Candy
Now, just swing by your grocery store to get your favorite candy (or just add this to your cart now!) And, while you're at it, grab a few stickers, stamps, coloring books or other safe non-food treats for kids with food allergies! (Or, just add some great allergy-friendly stickers or stamps to your cart now!)
Happy Halloween! Have a wonderful Trunk or Treat event!